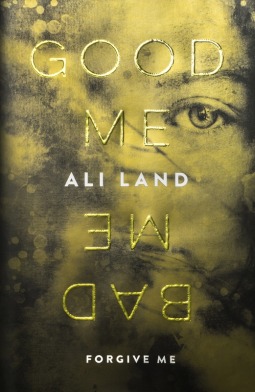 Good Me, Bad Me by Ali Land 
was published on January 12th 2017 by Penguin Books Ltd and is a crime thriller novel. Milly's mother is a serial killer. Though Milly loves her mother, the only way to make her stop is to turn her in to the police. Milly is given a fresh start: a new identity, a home with an affluent foster family, and a spot at an exclusive private school.
But Milly has secrets, and life at her new home becomes complicated. As her mother's trial looms, with Milly as the star witness, Milly starts to wonder how much of her is nature, how much of her is nurture, and whether she is doomed to turn out like her mother after all.
When tensions rise and Milly feels trapped by her shiny new life, she has to decide: Will she be good? Or is she bad? She is, after all, her mother's daughter.
Add to GOODREADS or purchase from AMAZON  –  AMAZON.CA  –  AMAZON.UK 
About the author: After graduating from university with a degree in Mental Health, Ali spent a decade working as a Child and Adolescent Mental Health Nurse in both hospitals and schools in the UK and Australia. Though a voracious reader from a young age and a keen observer of the world, it took Ali over thirty years to put pen to paper but she sure is glad she did! Ali's debut novel Good Me Bad Me is an international bestseller and will be translated into twenty-three languages. It was short-listed for a Dead Good Reader Award and long-listed for the John Creasey New Blood Dagger Award by the Crime Writers Association. She is now a full-time writer and lives in Notting Hill and is currently working on her second novel.
Follow Ali on Twitter and Instagram  – You can also find Ali GOODREADS or AMAZON
My thoughts: GOOD ME, BAD ME is an extremely suspenseful on the edge of your seat thriller. This chilling novel does not shy away from the traumatic life altering consequences of an abusive childhood. Millie is now fifteen-years-old and the daughter of Annie who is a serial killer. All of Annie's victims were children. Land never truly lets you meet Annie but you can feel her presence throughout the novel with her unique and detailed writing style. Millie was the person who reported her mother to the police after she felt her mother had gone too far.  This book is full of tension and suspense with some parts being harder to read. The characters have very detailed and extensive backstories that combine with the setting to create a truly unsettling read. Overall, I recommend this book to those who love to read disturbing, unsettled psychological thrillers. ** I received a complimentary copy in exchange for my honest and unbiased review. **