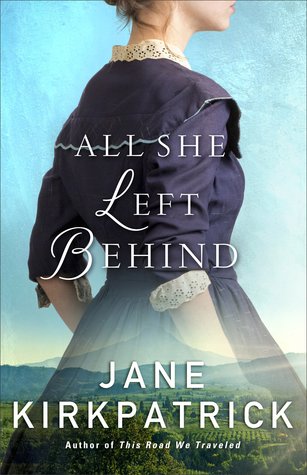 All She Left Behind by Jane Kirkpatrick has an expected publication date of September 5th, 2017 by Fleming H. Revell Company and is a historical fiction novel. Already well-versed in the natural healing properties of herbs and oils, Jennie Pickett longs to become a doctor. But the Oregon frontier of the 1870s doesn't approve of such innovations as women attending medical school. To leave grief and guilt behind, as well as support herself and her challenging young son, Jennie cares for an elderly woman using skills she's developed on her own. When her patient dies, Jennie discovers that her heart has become entangled with the woman's widowed husband, a man many years her senior. Their unlikely romance may lead her to her ultimate goal–but the road will be winding and the way forward will not always be clear. Will Jennie find shelter in life's storms? Will she discover where healing truly lives? Through her award-winning, layered storytelling, New York Times bestselling author Jane Kirkpatrick invites readers to leave behind their preconceived notions about love and life as they, along with Jennie, discover that dreams may be deferred–but they never really die. Based on a true story.
Add to GOODREADS  or purchase from AMAZON  –  AMAZON.CA  –  AMAZON.UK 
About the author: If you'd like more information about me, please come visit my website at http://www.jkbooks.com and click on my blog. My dog also has a blog and you can find out what it's like to be Bodacious Bo, too. A monthly newsletter called Story Sparks is my way of sharing books about authors I enjoy as well as commenting on life and love. You'll find out more about me than you probably ever wanted to know! One item not listed on my lists of books is my selection included in an anthology called "Crazy Woman Creek: Women Rewrite the American West" published by Houghton Mifflin I also have a piece in Storytellers II, a book published a few years ago by Multnomah Press and a few short selections in Daily Guideposts of a few years back. My first novella, "The Courting Quilt" is part of a collection that made the New York Times bestsellers September 2011 in a collection called Log Cabin Christmas. The rest of my writing, as they say, is history. Or it was until my first contemporary came out this fall. Called Barcelona Calling, it's the story of a writer who loses her way as she seeks fulfillment thinking she'll find it with fame. It's a laugh out loud book according to reviewers. I hope you'll enjoy it.
My thoughts: All She Left Behind is a historical novel that is based on a true story. Kirkpatrick has done a lot of research on this story before writing this blended story of historical events using real people. The main character is Jennie Pickett who is struggling to become a doctor in 1870's Oregon. A time when women were seen but not heard and being a doctor was more of a dream than reality. In 1870 women doctors were rejected by society. This journey to accomplish her dream was not an easy one. She had a lot of obstacles to face like her dyslexia, a problematic husband and a small son. Like many people in that time frame she learned to use herbs and oils as homeopathic treatments which soon became her passion. After divorcing her first husband, she remarries a loving and caring man who encourages her to follow through with her dreams of becoming a doctor. This story is extremely captivating with the easy of the author's writing and the fascination of the story. I found this to be a good read for anyone who loves a good historical fiction novel. ** I received a complimentary copy in exchange for my honest and unbiased review. **