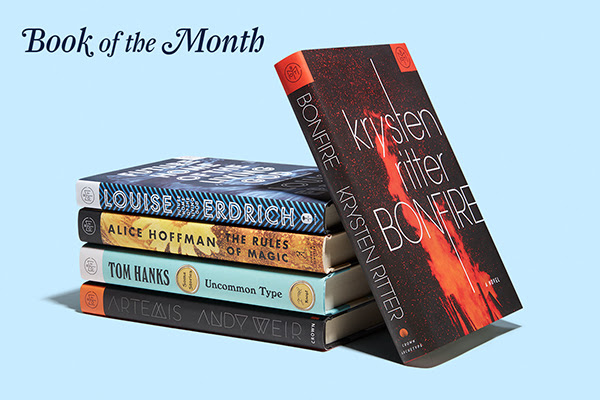 Starting now, anyone who purchases a 1-month BOTM subscription will get 1 month free! That's two months for the price of one––two brand new hardcover books for only $14.99!
Here's how it works:
❃ Get your first month free (just put in your credit card details).
❃ The second month, pay $14.99 for one book of your choice.
❃ Cancel anytime after your second month.
❃ Skip any month free of charge.
Is it too early to say Happy Holidays? Book of The Month has a sweet holiday offer. Buy a Book of the Month gift and get a free book for yourself.
BOTM reduced their gift pricing:
❃ 3 months for $44.99
❃ 6 months for $79.99 (save $10!)
❃ 12 months for $149.99 (save $30!)
In fact, one of BOTM selections is Bonfire by Krysten Ritter (Marvel's Jessica Jones star and a previous BOTM guest judge!)––a suspenseful story about a badass woman who must confront her past. BOTM is also featuring Future Home of the Living God, a dystopian story selected by Guest Judge Tavi Gevinson (Editor-in-Chief of Rookie mag); Artemis, a new sci-fi heist from the author of The Martian; The Rules of Magic, a witchy tale selected by Guest Judge Mae Whitman (of Parenthood fame); and, last but not least, Uncommon Type, the debut short story collection from Oscar-winner Tom Hanks.
BOTM also has two extras: The Martian, the bestseller by the author of our November selection Artemis and And Then There Were None by Agatha Christie.
Don't forget about their FREEBIE deal––this month, anyone who uses this code can get Bonfire, Artemis, or The Rules of Magic free when they join!
November Book Selections
❃ The Rules of Magic by Alice Hoffman – Guest Judge Mae Whitman
❃ Future Home of the Living God by Louise Erdrich – Guest Judge Tavi Gevinson
❃ Bonfire by Krysten Ritter – Judge Liberty Hardy
❃ Uncommon Type by Tom Hanks – Judge Maris Kreizman
**This post contains affiliate links and I will be compensated if you make a purchase after clicking on my links. **