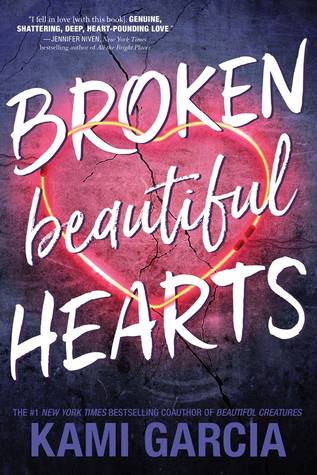 Broken Beautiful Hearts by Kami Garcia was published February 6th 2018 by Imprint and is a contemporary young adult romance novel. Her heart has to break before it can open. When star soccer player Peyton Rios receives an offer from her first-choice college, senior year starts off exactly as planned. But when Peyton uncovers her boyfriend's dark secret, she confronts him—and finds herself falling down a flight of stairs. Peyton's knee—and maybe her dream of going pro—is shattered. Everyone is talking: Was she pushed, or did she fall? Peyton knows the truth, even if no one believes her.
He has to let someone in before it's too late. With her future on the line, Peyton goes to stay with her uncle in a small Tennessee town to focus on her recovery. Dating is the last thing on her mind—until she meets sweet, sexy Owen Law.
But Peyton doesn't trust her heart, especially when she senses that Owen is hiding something. When their secrets are finally exposed, Peyton has to decide if love is worth fighting for.  
Goodreads   –   Amazon   –   Amazon.co.uk
About the author: Kami Garcia is the #1 New York Times & USA Today bestselling co-author of the Beautiful Creatures novels & the Dangerous Creatures novels, and the author of the instant New York Times bestseller & Bram Stoker Award nominated novels UNBREAKABLE & UNMARKED in the Legion Series. Her contemporary romance THE LOVELY RECKLESS releases on October 4th (Imprint/Macmillan).
Kami grew up outside of Washington DC, wore lots of black, and spent hours writing poetry in spiral notebooks. When Kami isn't writing, she lives to bake, watch bad disaster movies, and listen to Soundgarden. She lives in Maryland with her husband, son, daughter, and their dogs Spike and Oz (named after characters from Buffy the Vampire Slayer). Website
Goodreads   –   Amazon   –   Amazon.co.uk
My thoughts: Broken Beautiful Hearts is a remarkable read that is sure to tug at your heartstrings. A lovely story that shares real life issues and the roller coaster ride that takes place after a life-changing event. I was drawn in from the first page and knew there was no way I could simply put this one down! Garcia captured my attention and had me wanting to know what happens just beyond the next page, the next chapter.
The characters are vividly realistic and well developed. They have intriguing backstories that slowly come to light helping to tell a story of young love and sacrifice. Could you put someone you love before yourself if you knew it could cost you your own life?
Broken Beautiful Hearts is set in a typical high school setting with football players, drama queens, bullies, and rule breakers making this the perfect backdrop for a remarkable read. A story that is full of heartbreak, hope, love, family, and friendship. All the things you love about Garcia's writing. She writes with a loving and realistic touch which makes the story come to life and the characters seem real. Overall, I highly recommend Broken Beautiful Hearts to anyone who loves contemporary young adult romance novels.  ** I received a complimentary copy in exchange for my honest and unbiased review. This post contains affiliate links and I will be compensated if you make a purchase after clicking on my links.**