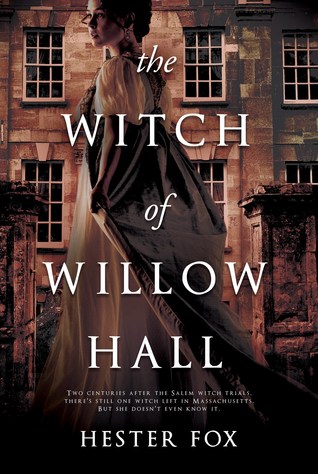 The Witch of Willow Hall by Hester Fox – Published October 2nd, 2018 by Graydon House – paranormal historical fiction
Two centuries after the Salem witch trials, there's still one witch left in Massachusetts. But she doesn't even know it.
Take this as a warning: if you are not able or willing to control yourself, it will not only be you who suffers the consequences but those around you, as well.
New Oldbury, 1821
In the wake of a scandal, the Montrose family and their three daughters—Catherine, Lydia, and Emeline—flee Boston for their new country home, Willow Hall. The estate seems sleepy and idyllic. But a subtle menace creeps into the atmosphere, remnants of a dark history that call to Lydia, and to the youngest, Emeline.
All three daughters will be irrevocably changed by what follows, but none more than Lydia, who must draw on a power she never knew she possessed if she wants to protect those she loves. For Willow Hall's secrets will rise, in the end…
About the author: Hester comes to writing from a background in museum work and historical archaeology. She loves the Gothic, the lurid, the dark…so long as the ending is a happy one. She has never seen a ghost, though she remains hopeful.
Hester lives outside of Boston with her husband. THE WITCH OF WILLOW HALL is her first novel.
My Review: The Witch of Willow Hall is a paranormal historical fiction novel written by Hester Fox. A story that is sure to pull you into a world that is vividly written and intriguingly described in a way that is easy to get lost in with strong relatable characters that are complicated and unique. Fox adds some supernatural occurrences that surround a mystery that is sure to keep you in suspense as more and more secrets are revealed. You never know what is just beyond the next page that is sure to surprise you with fast-paced scenes that have a shock factor that is sure to leave you speechless. The Witch of Willow Hall has a mix of emotional family drama, love, hope, unexpected paranormal and of course a witch. I was so drawn into the story that I could not put it down and was surprised by the ending. Now I cannot wait for the next book from Hester Fox. ** This post contains affiliate links and I will be compensated if you make a purchase after clicking on my links.**