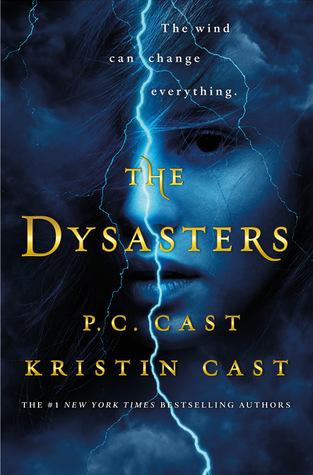 The Dysasters
by P.C. Cast and Kristin Cast
Publication: February 26th, 2019 by Wednesday Books
Genre: Young Adult, Paranormal, Fantasy
Foster Stewart knows she's different. Her life has never been "normal." Talking to plants and controlling cloud formations aren't things most seventeen-year-olds are into. Tate "Nighthawk" Taylor is perfect. Star quarterback and all around dreamy boy next door he never thought about his "extra" abilities. What quarterback wouldn't want night vision? That's not weird, right? It's cool!
But on the night of their first meeting, a deadly tornado brings them together and awakens their true abilities – the power to control the element air. Unbeknown to Tate and Foster, they are the first in a group of teens that were genetically manipulated before birth to bond with the elements. Which truly sucks for Foster, as she has to face the fact that Dr. Rick Stewart, her beloved scientist father, betrayed her and now wants to use her and the others for his own nefarious world domination plot.
Foster and Tate must stop Dr. Stewart and his minions before he destroys their lives and the world.
About the authors: 
PC Cast was born in the Midwest and grew up being shuttled back-and-forth between Illinois and Oklahoma, which is where she fell in love with Quarter Horses and mythology (at about the same time). After high school, she joined the United States Air Force and began public speaking and writing. After her tour in the USAF, she taught high school for 15 years before retiring to write full time. PC is a #1 New York Times and #1 USA Today Best-Selling author and a member of the Oklahoma Writers Hall of Fame. Her novels have been awarded the prestigious: Oklahoma Book Award, YALSA Quick Pick for Reluctant Readers, Romantic Times Reviewers' Choice Award, the Prism, Holt Medallion, Daphne du Maurier, Booksellers' Best, and the Laurel Wreath. PC is an experienced teacher and talented speaker. Ms. Cast lives in Oregon near her fabulous daughter, her adorable pack of dogs, her crazy Maine Coon, and a bunch of horses.
Kristin Cast is a #1 NY Times and #1 USA Today bestselling author who teamed with her mother to write the wildly successful HOUSE OF NIGHT series. She has editorial credits, a thriving t-shirt line, and a passion for all things paranormal. When away from her writing desk, Kristin loves going on adventures with her friends, family, and significant other, playing with her French Bulldogs (Grace Kelly and Sir Laurence Olivier), and discovering new hobbies. This year she'll work on handstands, gardening, and taking her new puppy (Baloo) to puppy classes.
Review of THE DYSASTERS by P.C. and Kristin Cast
The Dysasters is a young adult paranormal fantasy written by P.C. Cast and Kristin Cast. A new series that begins with the introduction of the characters and the premise of the story/series. The mother-daughter duo has created a world unlike any other with diverse characters, lots of action, and a captivating storyline. The Dysasters starts with a storm and ends with a new type of family and the beginning of an amazing love story.   Throughout this fast-paced read is images or comic book style pages that are sure to draw you into the story. A true page-turner with unique characters, action, and twists and turns around every corner that is sure to leave you wanting more. I cannot wait to read the next book in this series.  * I received a complimentary copy in exchange for my honest and unbiased review. This post contains affiliate links and I will be compensated if you make a purchase after clicking on my links.** 
BUY LINKS
SWEEPSTAKES
Enter for a chance to win 1 of 20 hardcover copies!  Winners will be selected at random.
Abbreviated Rules: No purchase necessary. Open only to legal residents of the 50 United States, the District of Columbia or Canada (excluding Quebec) who are age 13 years of age or older. Entry period begins at 12:00 a.m. (ET) on Sunday, February 24, 2019 and ends at 11:59 PM ET on Sunday, March 10, 2019. Void where prohibited. For full Official Rules, visit https://read.macmillan.com/promo/thedysastersblogtoursweepstakes. Sponsored by St. Martin's Press, 175 5th Ave 10010.