Highland Crown: Royal Highlander #1
by May McGoldrick
Scottish pride, persuasion, and passion―this is Highland romance at its breathtaking best.
Inverness, 1820
Perched on the North Sea, this port town―by turns legendary and mythological―is a place where Highland rebels and English authorities clash in a mortal struggle for survival and dominance. Among the fray is a lovely young widow who possesses rare and special gifts.
WANTED: Isabella Drummond
A true beauty and trained physician, Isabella has inspired longing and mystery―and fury―in a great many men. Hunted by both the British government and Scottish rebels, she came to the Highlands in search of survival. But a dying ship's captain will steer her fate into even stormier waters and her heart into flames.
FOUND: Cinaed Mackintosh
Cast from his home as a child, Cinaed is a fierce soul whose allegiance is only to himself. . .until Isabella saved his life―and added more risk to her own. Now, the only way Cinaed can keep her safe to seek refuge at Dalmigavie Castle, the Mackintosh family seat. But when the scandalous truth of his past comes out, any chance of Cinaed having a bright future with Isabella is thrown into complete darkness. What will these two ill-fated lovers have to sacrifice to be together…for eternity?
Publisher: St. Martin's Paperbacks (April 30, 2019)
Genre: Romance, Historical Romance
ISBN-10: 1250314976
ISBN-13: 978-1250314970
ASIN: B07DZY9NK2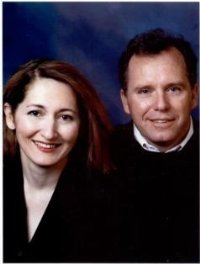 About the author: May McGoldrick USA Today Bestselling Author (a.k.a. Nikoo & Jim McGoldrick) – USA Today Bestselling Authors Nikoo and Jim wrote their first May McGoldrick romance using historical figures that Jim researched while earning a Ph.D. in sixteenth-century Scottish and English literature. Nikoo, a mechanical engineer, is a born storyteller. She is all about characters and feeling. Jim is about action and sense of place. Together, they have crafted over forty fast-paced, conflict-filled historical and contemporary novels and two works of nonfiction under the pseudonyms May McGoldrick and Jan Coffey.
Their stories have touched the hearts and minds of millions of readers all over the world. Their work has been translated into over a dozen languages and counting. Because of their success, they have been frequent guests on local and national radio and television. They travel regularly, speaking at writers' conferences, libraries, classrooms, and book group gatherings.
For the past decade, Nikoo and Jim have been conducting workshops bringing 21st-century collaboration and writing skills to students and teachers.
These popular and prolific authors write historical romance, suspense, mystery, and young adult novels. They are four-time Rita Finalists and the winners of numerous awards for their writing, including the Romantic Times Magazine Reviewers' Choice Award, the Daphne DeMaurier Award, three NJRW Golden Leaf Awards, two Holt Medallions, and the Connecticut Press Club Award for Best Fiction. Their work is included in the Popular Culture Library collection of the National Museum of Scotland.
Nikoo & Jim now reside in Southern California where Nikoo writes and Jim gazes out at the Pacific (Nikoo's side of the story (-: )
Nikoo and Jim love hearing from their readers and can be contacted through their website www.MayMcGoldrick.com  –  Twitter  –  Goodreads Author Page  –  Amazon Author Page  –  Amazon   –   Goodreads
Review of Highland Crown
Highland Crown is the first book in the Royal Highlander book series by May McGoldrick and is a historical romance. A story that is sure to take you to another time, another place with a steamy romance that is sure to warm your heart. McGoldrick has created an intriguing story with a list of characters that are well-written with mysterious backstories.  Isabella and Cinaed's love story is packed from beginning to end with drama, action, humor, steamy sexy bits, suspense, and an ending that is sure to catch you by surprise. Highland Crown is full of heart-wrenching adventure that is sure to keep you on the edge of your seat. I was drawn in from the beginning and was taken to another world through McGoldrick's stellar writing and captivating storytelling. I highly recommend Highland Crown to anyone who loves an intriguing historical romance. I am looking forward to reading the next book in the Royal Highlander series!   ** I received a complimentary copy in exchange for my honest and unbiased review. This post contains affiliate links and I will be compensated if you make a purchase after clicking on my links.**