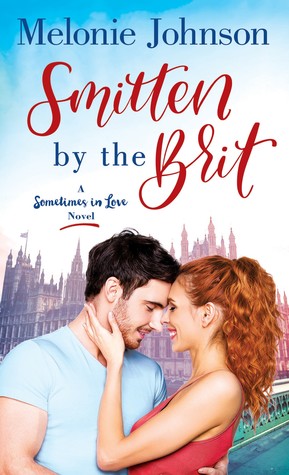 Smitten by the Brit (Sometimes in Love #2)
by Melonie Johnson
DEFINITELY, MAYBE…OR LOVE, ACTUALLY?
English professor Bonnie Blythe expects her life to play out like her favorite novels, especially now that her long-term boyfriend has finally proposed. So when a shocking discovery leads Bonnie to end her engagement, she decides to close the book on love. But the plot thickens when a brand-new character enters the scene—and quickens Bonnie's heart.
With his brilliant blue eyes, sexy accent, and irresistible charm, Theo Wharton is like a romantic hero straight out of a Jane Austen novel. When fate places Bonnie in England for a summer—conveniently close to Theo—she realizes a hot friends-with-benefits fling is exactly what she needs to start a fresh chapter. Just as Bonnie begins to believe she's falling in love, an eye-opening revelation into Theo's life makes Bonnie feel like she's wandered into one of her favorite books. Will Bonnie have the courage to risk her heart and turn the page with the dashing Brit to find her true happy ending after all?
Publisher: St. Martin's Paperbacks (May 28, 2019)
ASIN: B07H7DM9FF
ISBN-10: 1250193052
ISBN-13: 978-1250193056
Amazon
Goodreads
About the author: A Star Wars junkie and Shakespeare groupie who quotes both Yoda and the Bard with equal aplomb, award-winning author Melonie Johnson—aka #thewritinglush—is a two-time RWA Golden Heart® finalist who loves dark coffee, cheap wine, and expensive beer. And margaritas. And mimosas. And mules. Basically, any cocktail that starts with the letter m. She met her future husband in that most romantic of places—the mall—when they were teenagers working in stores across the hall from each other. Today, they live happily ever after in the magical land midway between Chicago and Milwaukee with their two redhead daughters, a dog that's more like a small horse, and a pair of hermit crabs. After earning her Bachelor of Arts magna cum laude from Loyola University Chicago, Melonie taught high school English and Theatre in the northern Chicago suburbs for several years. Now she writes smart and funny contemporary romance and moonlights as an audiobook narrator under the pseudonym, Evelyn Eibhlin.
Visit her at www.meloniejohnson.com and find her on Twitter and Instagram.
Review of  Smitten by the Brit
Smitten by the Brit is the second book in the contemporary romance series Sometimes in Love written by Melonie Johnson. While this is the second book in the series, it can easily be read as a standalone novel. Once you read Smitten by the Brit, you will want to read the first book in the Sometimes in Love series. A captivating romance that is sure to draw you in from the beginning and hold your attention until the very end. The characters are well-written, vividly realistic and relatable making them easy to love. Smitten by the Brit has a storyline that is full of romance, drama, and unexpected twists along the way. As much as I enjoyed the first book in the Sometimes in Love series, book two was a different level for me! Smitten by the Brit has all the elements of an amazing romance novel making it the perfect summer romance read.  ** I received a complimentary copy in exchange for my honest and unbiased review. This post contains affiliate links and I will be compensated if you make a purchase after clicking on my links.**