The Night Country (The Hazel Wood #2) by Melissa Albert – 
The highly anticipated sequel to Melissa Albert's beloved, New York Times bestselling debut The Hazel Wood!
In The Night Country, Alice Proserpine dives back into a menacing, mesmerizing world of dark fairy tales and hidden doors. Follow her and Ellery Finch as they learn The Hazel Wood was just the beginning, and that worlds die not with a whimper, but a bang.
With Finch's help, Alice escaped the Hinterland and her reclusive grandmother's dark legacy. Now she and the rest of the dregs of the fairy tale world have washed up in New York City, where Alice is trying to make a new, unmagical life. But something is stalking the Hinterland's survivors―and she suspects their deaths may have a darker purpose. Meanwhile, in the winking out world of the Hinterland, Finch seeks his own adventure, and―if he can find it―a way back home.
Publisher: Flatiron Books; Reprint edition (January 7, 2020)
Genre: Young Adult Fantasy
ISBN-10: 1250246075
ISBN-13: 978-1250246073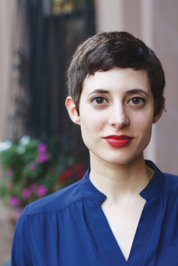 About the author: (from amazon.com) Melissa Albert is the founding editor of the Barnes & Noble Teen Blog and the managing editor of BN.com. She has written for McSweeney's, Time Out Chicago, MTV, and more. Melissa is from Illinois and lives in Brooklyn. The Night Country is her second novel. 
Review of The Night Country
The Night Country is the second book in the The Hazel Wood by Melissa Albert and is a young adult fantasy. Albert's writing is vivid and dark weaving our favorite fairy-tales into new life. The gorgeous cover does not do justice to the captivating story that is hidden between the pages. A story of worlds that collide and collapse as they undo themselves. Stories of good verses evil, new beginnings, sad endings, and hope. The Night Country takes you on an emotion roller coaster while keeping you on the edge of your seat. I was drawn in from the beginning and could not put this one down! I look forward to reading the next book in the series. *I received a complimentary copy in exchange for an honest and unbiased review.*