Highland Sword (Royal Highlander #3) by May McGoldrick – Scottish pride, persuasion, and passion—this is Highland romance at its breathtaking best. From USA Today bestselling author May McGoldrick comes Highland Sword, the third book in the Royal Highlander series.
A VOW FOR VENGEANCE – Fleeing to the Highlands after her father's murder, fiery Morrigan Drummond has a score to settle with Sir Rupert Burney, the English spymaster responsible for his death. Trained to fight alongside the other rebels determined to break Britain's hold on Scotland, she swears to avenge her father's death—until a chance encounter with a barrister as proud and principled as she is presents her with a hard choice…and a bittersweet temptation.
A PLEA FOR PASSION – Aidan Grant has never encountered another woman like dangerous beauty Morrigan—and he has the bruises to prove it. Yet she could be the key to defending two innocent men, as well as striking a death blow to the reprehensible Burney. Convincing Morrigan to help him will take time, but Aidan is willing to wait if it means victory over corrupt government forces and freedom for his people…and Morrigan's hand in marriage. Can two warriors committed to a cause stand down long enough to open their hearts to a love fierce enough to last…forever?
Publisher: St. Martin's Paperbacks (March 31, 2020)
Genre: Historical Romance
ISBN-10: 1250314992
ISBN-13: 978-1250314994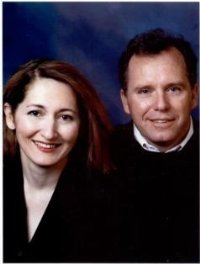 About the Authors: Two peas in a pod, a pair of halfwits, the Laurel and Hardy of romance fiction…Nikoo & Jim McGoldrick were married in St Patrick's Cathedral in Dublin 68 years ago before a worldwide television audience. After a honeymoon tour of their oil fields in Iran, they embarked on a writing career that has produced dozens of New York Times bestsellers, two Academy Award Winning film adaptations, and a Nobel Prize for Literature. After all this, fortune FINALLY smiled on them and they won the New Jersey Lottery. Taking their two sons, Nikoo and Jim spent a year backpacking through Africa and then seven years in Tibet, teaching the Dalai Lama the subtle intricacies of Scrabble. Upon returning to the States, these two storytellers wrote forty adult and young adult novels, four of which were RITA finalists and three which were NJRW Golden Leaf winners. They have also written two nonfiction works. Nikoo picked up an engineering degree somewhere along the way, and Jim has a PhD in 16th Century British literature.
These two write under the pseudonyms of May McGoldrick and Jan Coffey and now reside in southern California. www.maymcgoldrick.com
Review of Highland Sword
Highland Sword is the third book in the Royal Highlander series by May McGoldrick. A slow burn historical romance that pulls you in from the beginning and leaves you wanting more with each page you read. The characters have an undeniable chemistry that leads to them slowly falling for each other. Full of drama, heated exchanges, love, and steamy romance makes this a must-read for fans of historical romance! *I received a complimentary copy in exchange for an honest and unbiased review.*