The Damned (The Beautiful #2) by Renée Ahdieh – New York Times bestselling author Renée Ahdieh returns with the second installment of her new sumptuous, sultry and romantic series, The Beautiful.
Following the events of The Beautiful, Sébastien Saint Germain is now cursed and forever changed. The treaty between the Fallen and the Brotherhood has been broken, and war between the immortals seems imminent. The price of loving Celine was costly. But Celine has also paid a high price for loving Bastien.
Still recovering from injuries sustained during a night she can't quite remember, her dreams are troubled. And she doesn't know she has inadvertently set into motion a chain of events that could lead to her demise and unveil a truth about herself she's not quite ready to learn.
Forces hiding in the shadows have been patiently waiting for this moment for centuries. And just as Bastien and Celine begin to uncover the danger around them, they learn their love could tear them apart.
Publisher: G.P. Putnam's Sons Books for Young Readers (July 7, 2020)
Genre: Young Adult, Fantasy, Paranormal, Romance
ISBN-10: 1984812580  –  ISBN-13: 978-1984812582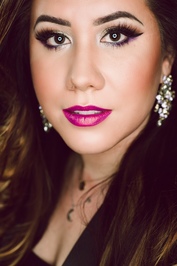 About the Author: Renée Ahdieh is a graduate of the University of North Carolina at Chapel Hill. In her spare time, she likes to dance salsa and collect shoes. She is passionate about all kinds of curry, rescue dogs, and college basketball. The first few years of her life were spent in a high-rise in South Korea; consequently, Renée enjoys having her head in the clouds. She lives in Charlotte, North Carolina, with her husband and their tiny overlord of a dog. The Rose and the Dagger is the sequel to her sparkling debut novel, The Wrath and the Dawn.
Review of The Damned
After that ending of The Beautiful, there was no way I was going to skip The Damned! I love Celine in this one. She is more experienced and stands stronger, more determined than the first novel. At the same time, Bastian is even more intriguing this time around. I was captivated by his character as he tries to figure out how he wants to move forward. Ahdieh brings back vampires more breathtakingly and beautifully. Her writing style is luscious, dark, and mysterious.  The Damned is one of my favorite books of 2020 so far! I can't wait to read more from this series!